It is our goal at Riverstone Church to be strategically and proactively fulfilling the great commission of Jesus Christ (Mt 28:18-20; Acts 1:8) both locally and globally. We are passionate about transforming lives and communities with the power, hope and love of the gospel from across the street to across the sea. We strive to mobilize all our members and resources in faithfully advancing the mission of Christ beyond the walls of our church.
We believe that people tangibly experience the compassion of Christ as we meet their physical, spiritual and emotional needs. This opens wide the door to share the truth and hope of the gospel. Our local outreach ministries are designed to meet both physical and spiritual needs within the community in our pursuit of transformation one life at a time.
Our church is dedicated to strengthening the community around us, caring for the needs of the poor, ministering to nearby growing immigrant communities, and seeking justice, mercy and liberation for the vulnerable through the power of the gospel (Deut 24:17-18; Is 1:17; Mt 25:31-46).
Global Outreach
Global outreach consists of the cross-cultural demonstration and proclamation of the gospel. It is the means by which we carry the message and love of Jesus Christ to those who have not yet heard of him or do not truly know him. We do this by partnering, short-term and long-term, with those around the world who are committed to the same missional priorities. We also support strategic projects that advance the mission of Christ globally.
We believe that the local church is the primary agent for sending workers throughout the world to advance the gospel (Acts 13:1-3). Therefore, we are committed to equipping and mobilizing global workers to be sent as an extension of the church's mission around the world.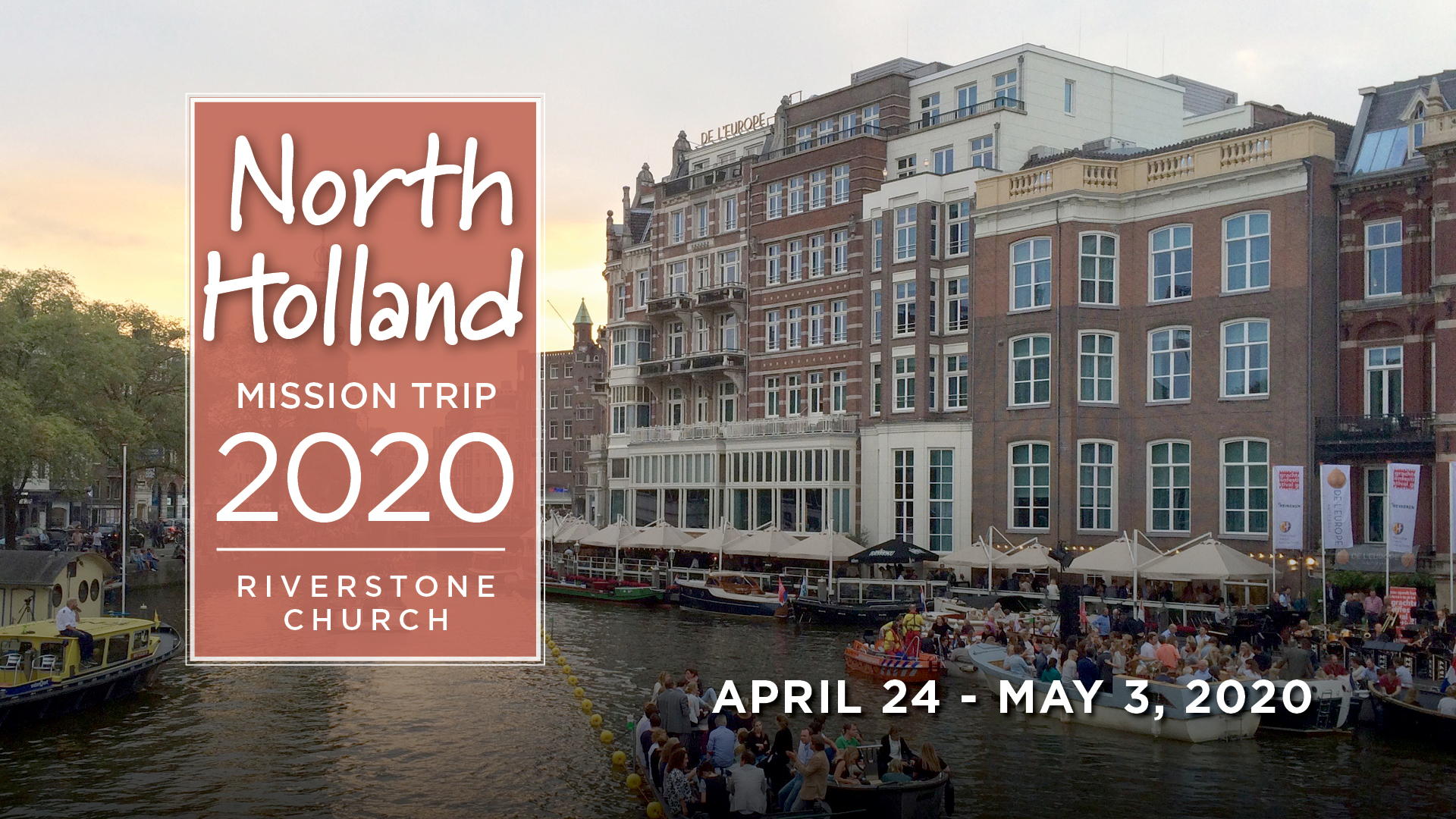 Mission Trip to North Holland - April 24 – May 3, 2020
Pathway to Missions at Riverstone
(Download Pathway to Missions flyer)
Here at Riverstone, we believe that the local church should be proactive in discovering God's direction for our missions involvement. As leaders, we want to help each person find their unique role in global impact. For those considering cross-cultural service, we want to walk alongside you from the very start of your missions interest. Please come talk to us, even if you are just beginning to consider missions. We want to encourage and guide you all along the way! If you sense that God might be leading you into extended cross-cultural service (two years or more), we outline this path for you to walk with us.